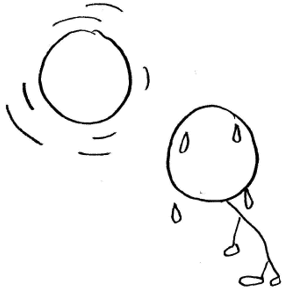 I've never been a fan of extreme heat. In HK, I was the girl who ducked into an air-conditioned shop every two blocks in order to escape the blistering temperatures of their spring and summer months; I rarely went outside unless I was forced into it, and I kept both the A/C units in my classroom operating at maximum cool all day long. On our honeymoon in Hawaii I insisted that Hubbs blast the A/C in our hotel room as we slept (he wanted to keep the balcony doors open and let all the warm air in).
The current
record-breaking heat wave happening in Van
is therefore nothing short of excruciating torture for me. It has sapped me of my strength, my appetite, and my concentration. I should be doing prep right now, but I simply cannot. I should be cleaning today, but even sitting and doing nothing causes me to drip with sweat. I should be hitting the gym, but I'm already sweating buckets and my body doesn't have sufficient energy or fuel to actually perform any exercise. All I can do is sit at my computer and ply my body with the cold nectar of God (water, for those of you who are unversed in my hyperbolic speech).
Oh, did I mention that we even have an oscillating tower fan and an A/C unit? 12000BTU's on a portable dual-hose Danby Simplicity; it's monstrously large and not quiet, and if you stand right in front of it you get a good shot of cool air. Unfortunately, this air doesn't seem to travel very well against the humid muggy air of the apartment; therefore, the cool is localized to a very small area in the living room, and does not reach to Hubbs' office nor our bedroom.
Apparently, even whilst armed with both air-cooling devices, we continue to be overwhelmed by the crazy high temperatures of this heat wave. 33 Celsius today, and it feels like 38. The forecast looks like this all week long, too! Even nighttime temperatures only dip to 19 Celsius, and that's if we're lucky and we stay up late enough. I am melting and miserable.
Maybe I'll hit the library tomorrow, and stay the day. Maybe we'll rent a hotel room for the night just so that we can get some good rest. The possibilities are endless, but the money is not, nor is our time. At this rate, we might end up having to invest in a second tower fan and even possibly another A/C unit. Otherwise, our guests (my folks and bro) who are coming for the cruise in two weeks' time may find themselves melting and miserable too! :(